Being a Veterinary Nurse can be an undeniably rewarding career. You're on the front line of animal care, helping pets and non-companion animals live a better life.
To assume the role, you go through rigorous training and education to become an effective figure in the vet clinic. The knowledge you impart to others helps maintain the welfare of all kinds of animals, from domestic to working and even wild breeds.
However, in an increasingly busy world, committing to classroom education isn't always easy. So the question is, can you study veterinary nursing online?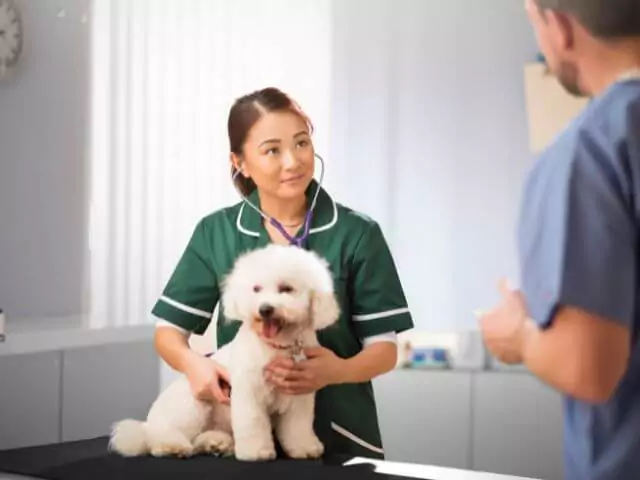 Ways to Become a Veterinary Nurse, UK Learners
You can get into this career either through a university course or vocational training. No matter the option you take, your Veterinary Nurse course must be approved by the Royal College of Veterinary Surgeons (RCVS).
As we have seen in education the world over, there is more of a multiple-choice approach for anyone thinking of studying these courses. Education providers are allowing more learners to complete the theory element online. However, you can't enrol on either of these study programmes until you have a practical placement secured with an RCVS-approved training practice.
This is because you cannot qualify until you have successfully demonstrated you have the necessary practical veterinary nursing skills. As such, your route to qualifying has to include a full-time period of practical training in an approved training practice or practices.
So, you can complete some of your training online, but not all of it.
Vocational Veterinary Nurse Training
This is the quickest route into the profession as courses can take as little as two years to complete. You need to study for a Level 3 Diploma in Veterinary Nursing to become a Registered Veterinary Nurse, but you can do this in one of two ways.
Option one is to study for your Level 3 Diploma full-time. Option two would be taking it as an advanced Veterinary Nurse apprenticeship, where you complete your studies alongside employment in a veterinary practice. In some cases, employers of students on these apprenticeships choose to fund their fees.
Those opting for the non-Veterinary Nurse apprenticeship route gain their practical experience through separate employment or voluntary work placements. Choosing vocational Veterinary Nurse training, however, allows you to blend both classroom and workplace education. A great option if you prefer hands-on learning.
As mentioned earlier, you can also more commonly complete the theory or your Level 3 Diploma in Veterinary Nursing online.
To take this Level 3 Diploma in either capacity, you'll generally need at least 5 GCSEs at grades C or 4. Including English, Maths and a Science subject, in addition to relevant work experience.
You can browse RCVS-accredited colleges here, or apply directly for apprentice/student Veterinary Nurse jobs at an approved training practice.

Complete a Veterinary Nurse Degree
You could also choose to study for a Foundation Degree or a BA (Hons) Degree in Veterinary Nursing.
Veterinary Nurse degrees are the longer route to get qualified as a Vet Nurse, as they take between 3-4 years to complete. They are more academically focused, so you spend more time learning about the theory behind veterinary practices. Though, you still need to gain the same level of work experience through approved hands-on training.
You might prefer this pathway if you want to know the concept of Veterinary Nurse jobs back-to-front before practising in a working environment. This helps you focus solely on your studies as opposed to juggling that and employment. Plus, gaining a degree can open up different career paths, and it allows you to progress to postgraduate veterinary nursing courses in specialist areas like physiotherapy.
While there isn't currently a fully online veterinary nursing degree, like most universities, online study is becoming a more welcome feature.
To get onto a Veterinary Nursing degree, you'll need to meet the A Level or alternate Level 3 qualification requirements. You can find out what A Levels are needed for veterinary nursing on our website.
It's also worth mentioning that you will also need to have evidence of practical work experience in a veterinary setting to enrol on a Veterinary Nurse degree. Entry requirements vary between universities, so check beforehand what you need to achieve.
Take a look at the RCVS-accredited degrees here.
Work Experience
Getting onto a vocational Veterinary Nurse course or degree requires work experience. The experience needed can be gained in veterinary practices or animal-related environments like catteries, kennels or rehoming centres. Though the more relevant experience you have, the better.
You'll need to enrol with the RCVS to legally carry out some of the procedures you'll perform in your Veterinary Nurse training. Once you're qualified and have completed your training, you can register with the RCVS as a Registered Veterinary Nurse (RVN).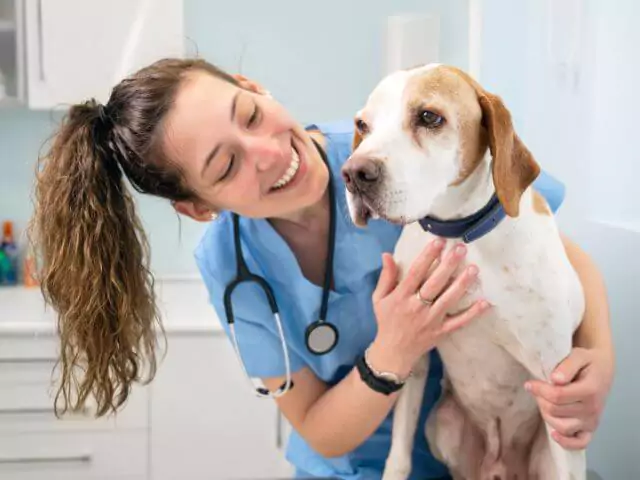 Get Started with an Online Course
If you're considering becoming a Vet Nurse, there are many online courses available to help you explore veterinary practice.
Veterinary Nursing Assistant Level 2 Diploma
This course is a great starting point to build your knowledge of veterinary nursing care. By training you to provide support to these professionals, this course gives you a feel for the role to make sure it's something you definitely want to pursue.
It will help you become more familiar with the many professional veterinary nursing responsibilities. As well as other essential information surrounding animal health and welfare, hygiene, cleaning and disinfection, the terminology used in clinics and more.
While it's an online training programme, it also requires a placement to carry out practical training. This ensures you gain the essential hands-on experience you need for vocational training or university level study to become a Veterinary Nurse.
After studying this course you'll be able to seek employment as a Veterinary Support Assistant, where you can directly assist veterinary nurses. From here, you will have a much clearer picture of what it means to become a Registered Veterinary Nurse.
You can also complete this course within a year, though you have two if you need it. So it's a quick way to upskill, practice and prepare for your career as a Veterinary Nurse.
Access to Higher Education Diploma (Veterinary Science)
An excellent way to meet some of the entry requirements for your Veterinary Nurse course online is through this Access to Higher Education Diploma.
By exploring everything from aspects of animal biology to animal physiology, nutrition and digestive systems, you'll be prepared for further studies of surgical nursing and patient care.
As a Level 3 equivalent, this course enables you to meet the qualification requirements for a veterinary science or veterinary nursing degree with one course. However, as it's totally online, you will need to ensure you get the work experience required for the next stage in addition to this.
Enrol Today!
No matter which route you want to take, our online courses can help you begin to explore the principles of veterinary nursing ahead of further studies that lead to your ideal career.
By studying online, and from home, you can easily learn around your existing commitments. Find out more about studying veterinary courses with learndirect by talking with our Course Executives today!
Call them now on 01202 006 464, contact us online, or click below to view the courses on offer in more detail.
If you're an animal lover, you can also keep track of all animal awareness days and events with our FREE calendar! Download it here.