Posted on 07/01/2019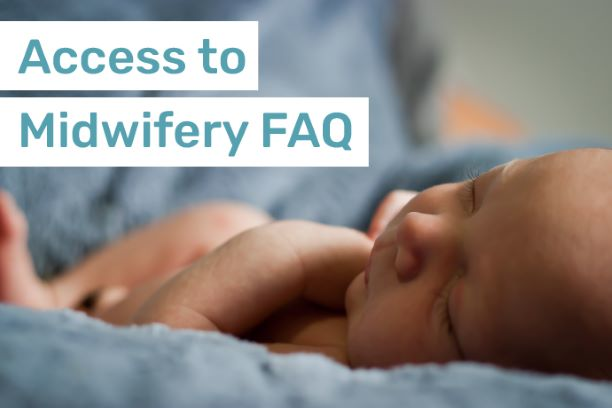 If you want to become a midwife without qualifications, you can apply for a midwifery degree without A-levels by completing an Access to Higher Education Diploma online with learndirect.
Why miss out on your dream career as a midwife? There are no upper age restrictions, so it is never too late to start. There is a national shortage of midwives so now is the perfect time to begin your online Access to HE Diploma (Midwifery).
This article gives you an overview of what it takes to become a midwife, and how to get there with no A-levels. Find the answers to your Frequently Asked Questions about midwifery careers without A-levels here.
How do I train to be a midwife?
You have to complete a degree in midwifery at university. These degrees need to be approved by the Nursing and Midwifery Council (NMC). You can apply for your degree online through UCAS after completing your Access to HE Diploma (Midwifery).
In August 2018, a proposal was submitted to create an apprenticeship for Midwifery. Since September this year, the Department of Health and the Department for Education have been working with experts in the field of midwifery to create a new apprenticeship. An apprenticeship scheme is already up and running for maternity support workers and will soon be started in the UK for midwives.
What do midwives do?
Midwives look after mothers, not just babies. Midwifery is a rewarding vocation and studying to get there involves lots of hands-on learning at university and further into your career.
Being a midwife goes way beyond the delivery room. Midwives look after mothers throughout their pregnancy, during childbirth, and beyond. They are based in hospitals and increasingly work on the community. You need to be caring in nature and good with mothers from various backgrounds. Excellent communication skills are a necessity, and midwives should focus on good, holistic, care for mother and baby. Working with children is less important in this career than working with mothers.
Having some experience of childbirth is, of course, not a requirement for being a good midwife. Your degree will prepare you with all the knowledge you need. Before that, the Access to HE Diploma (Midwifery), which has modules specific to midwifery, will assist you in starting your degree course without A-levels.
What qualifications do I need to start midwifery?
The entry requirements for midwifery are normally GCSEs in English or Maths. Some universities will accept functional skills level 2 but it is vital to check. Entry requirements vary at each university but typically you will need two or three A levels, or alternative qualifications such as BTEC National Diploma or an Access to Higher Education Diploma. The entry requirements on university entry pages for midwifery may either use UCAS tariff points or state exactly how many credits you need at each level (pass, merit or distinction).
You can choose to begin your career as a registered nurse and then become a midwife later. If you choose to become a registered nurse first, you can transition into midwifery by doing some further training, so you would not need to start from scratch after a general nursing degree pathway.
Post qualification, midwives are in high demand. However, places on midwifery courses are competitive. Many universities need good grades in your Access to HE Diploma.
What does the Access to HE Diploma (Midwifery) involve?
On successful completion of the learndirect Access to HE Diploma (Midwifery) you will receive a QAA recognised Access to HE Diploma at level 3 (QAA ref: 4000773X).
This course has been assigned 60 credits. 45 credits are from graded units for academic, subject-specific areas such as scientific, biology subjects, and midwifery specific subjects, and 15 credits are through ungraded units (such as Academic Writing Skills; Preparing to Study; and Preparing a Written Assignment).  
It is estimated that the online Access to HE Diploma (Midwifery) takes 360 hours and it is comprised of 21 modules, including modules in the biology topics you may need for your application to university. There are also modules designed specifically for aspiring midwives, such as:
The History of the National Health Service
The Role of the Midwife in Antenatal Care
The Role of the Midwife in Intrapartum Care
The Role of the Midwife in Postnatal Care
The online modules are geared around preparing you to study midwifery at university. If your application to university is successful, you will find that your tailored online learning course is successful in giving you an excelling grounding in topics relating to midwifery. This introduction to midwifery-specific topics is something you may not get from an A-level in more general subjects, for example.
How long does it take to become a midwife?
A midwifery degree takes on average three years to complete. Your Access to HE Diploma (Midwifery) can be completed more flexibly with an online qualification. The average student takes 10 months to complete an Access to He Diploma. See our FAQs on Access to HE Diplomas to assist with this, and all other technical questions. Becoming a midwife online can really alleviate the pressure associated with traditional entry routes into university and you won't need to give up the day job. learndirect differs from most online course providers because you can start your course whenever you like throughout the year.
Can I afford to become a midwife?
There are a number of payment options to make studying towards a midwifery career affordable. You could be eligible for a 19+ Advanced Learner Loan, with an enrolment fee of only £4.95. With a 19+ Advanced Learner Loan, you would not need to pay anything back until you are earning over £25, 000. Upon successful completion of a midwifery degree course, you may get your 19+ Advanced Learner Loan repayments written off completely.
What does a midwife earn?
Midwives earn on average £21,909, with additional pay for unsociable hours (night shifts etc) and on call work. Later in life, you can earn up to £82,000 per year in a senior management role or as a midwife consultant.

Enrol here today: