The role of a Midwife is one that is coveted by many people as it involves bringing precious life into the world. This unique and meaningful career is one of many under the healthcare umbrella, with Midwives being a core part of the services the NHS provides.  
Like many careers, there are misconceptions about what the job involves, and midwifery has not escaped the Chinese whispers! In fact, there are some fairly significant myths doing the rounds in midwifery that need to be debunked. If you are wondering how to become a Midwife but are unsure if the things you've heard are real, then continue reading! 
We have selected a handful of the most common misconceptions associated with the midwifery profession, separating the myths from the Midwife facts. 
Myth: Midwives Only Handle Home Births 
Traditionally, a Midwife would be a local person in the community that would help pregnant mothers deliver their babies at home. Even though the profession has since moved on leaps and bounds, many people still think that a Midwife only helps to deliver babies at the mother's home. The reality, though, is very different! 
The role of a Midwife is vast, and while many mothers choose to give birth at home, many opt for a hospital or a birth centre. An expert Midwife can help deliver a child in all three of those settings, not just at the expectant mother's home. 
The location is largely dependent on a handful of factors, including personal preferences, risks, and in some cases, where the pregnant mother lives. Whichever location is chosen, you can rest assured that a Midwife will be there to perform their duties! 

Myth: A Midwife and a Doula is the Same Profession 
Wrong! This is one of the most common misconceptions when it comes to false Midwife facts, and it is easy to see why. The role of a Midwife and a Doula is similar in some ways, but their purposes are different. If you are wondering how to become a Midwife, you need to know that your role is to provide support from a medical and clinical aspect. 
So, you will be responsible for checking vitals, such as blood pressure and heart rate, while also monitoring the mother and identifying any high-risk pregnancies. A Doula, also commonly referred to as a Birthing Coach, is predominantly hired for emotional support, relaxation techniques, and positioning. 
A Midwife and a Doula can work together during the mother-to-be's pregnancy journey, but there are notable differences between the two roles. 
Myth: A Midwife Sole Role is Delivering Babies 
When it comes to the pregnancy journey, we all know the most important stage is the final one when the baby is born. A Midwife will be present during labour, but the role of a Midwife is much more than the delivery stage. Many believe the myth that Midwives are only called upon when a mother goes into labour. 
In truth, Midwife jobs involve providing support and care during the entire process, from the pregnancy through to the birth and postnatal care. In fact, an expert Midwife will be responsible for the following: 
Assisting the expectant mother during the pregnancy, providing full antenatal care, such as clinical examinations and screenings 
Monitoring the mother and supporting them during labour and delivery of the baby 
Helping the mother learn how to feed and care for their baby in the first few weeks of their life 
While helping to deliver a baby is the primary role of a Midwife, they also need to offer support and advice throughout the journey and deal with any sudden changes in the pregnancy when and if they happen. 

Myth: Midwives Don't Require Formal Education 
As mentioned, a Midwife would traditionally be a local individual who did not have any formal qualifications. Unsurprisingly, this has changed over the years, but some people still think that becoming a Midwife does not involve any formal training. This could not be further from the truth! 
If you are asking yourself, 'what do I need to become a Midwife?' then the first thing you need to know is that you will not achieve your career goal without a degree, either an undergraduate or postgraduate one in midwifery. 
Plus, you need to ensure that the degree is approved by the Nursing and Midwifery Council (NMC). This is because you are required to register with the NMC in order to work as a practising Midwife. Please note that to enrol on degree-level Midwife courses, UK hopefuls, will likely require the following: 
Five GCSEs at grade C/4 or above, typically in English and a Science subject 
Two or more A Levels or a Level 3 equivalent qualification 
You could also pursue a midwifery degree apprenticeship, but to achieve this role, you must apply for an apprentice position at a healthcare provider. 
During your degree programme, you will learn about the role of a Midwife through a blend of academic learning and practical training.  
The Myths are Debunked, so Start Studying Towards Becoming a Midwife! 
Now that you can separate the myths from the Midwife facts, you should have the reassurance you need to embark on an exciting career as a Midwife! For those of you who don't have the qualifications to get to university to study degree-level Midwife courses, UK learners don't have to give up their dream. 
The idea of going back to education can seem like a daunting one, and who has the time to commit to years of in-person learning? If you have existing commitments that you cannot neglect at this time, then we have a solution!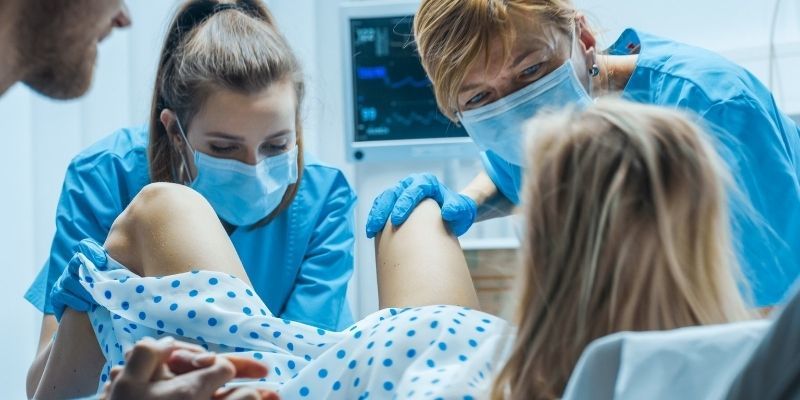 As the UK's leading online learning provider, learndirect has helped more than 4 million people achieve qualifications across a range of industries. So, if you don't have the qualifications required to meet degree entry requirements, then we have an online midwifery course that can get you to university.  
While A Levels are commonly required as part of entry requirements, some universities accept Access to Higher Education Diplomas instead. This is because an Access to HE Diploma is the equivalent of 3 A Levels and it can be achieved in less than a year when studied online through learndirect! 
We provide the Access to Higher Education Diploma (Midwifery), which is delivered 100% online and is structured into modules that are a blend of academic, vocational-related content, and study skills, getting you prepared for university. When studying our online midwifery course, you get the benefit of: 
100% online learning 
Access to tutor support 
Ability to study around your existing commitments 
No exams! 
Once you have successfully achieved your Level 3 diploma, you will be ready to go to university, study a midwifery degree, and become a qualified Midwife! Please note that most universities accept Access to HE Diplomas as part of their entry requirements but check their entry criteria before applying. 
To learn more about our online midwifery course or the details involved in studying midwifery courses online, speak to one of our Course Advisors today by calling 01202 006 464. Alternatively, contact us online or click below to discover more!