Learning with
learndirect
Learning with learndirect
How Do I Know Which Qualification or Course is Right For Me?
Before you enrol with us, we'll check which type and level of qualification you should be working towards. We'll also check what qualifications and skills you already have, so we can put together the right mix of learning for you. This means you only do the courses you need to – so you don't have to learn what you already know.
What Will It Cost?
Each of the courses that we offer will contain all the information about course costs, please refer to the course page for more information.
For further detail about the funding options that are available to you when you become a student with learndirect, please see our Pay in Full or Payment Options pages.
Facebook reviews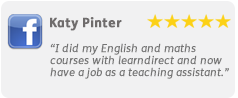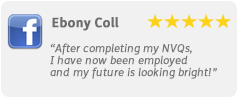 Ways to get in touch

---