Working in Health Care
This programme is designed for people who wish gain abroad understanding of how health care (NHS and private) is structured, the services provided and how staff in health care can help to ensure that patients and users to access the health services they require.
The objectives of the course are to:
Develop a broad understanding of the structure and responsibilities of NHS bodies and private healthcare providers in the UK.
Learn how the component parts of the health care system integrate and how staff liaise between the various components.
Understand how to help patients and service users to access the health care services needed.
Understand the range of physical resources, equipment and aids available; and how to manage them.
Study how to provide a customer focused service and create a good impression wit service users.
Modules
The course is divided up into five units, as follows:
Unit 1: Understanding the Structure of the Health Care Sector
The National Health Service
Structure of the Healthcare System in the UK
The Department of Health
The Secretary of State for Health
NHS England
Clinical Commissioning Groups
Health and Wellbeing Boards
Public Health England
Delivery of NHS Services
Primary Care Services
Health Care in the UK Home Countries
Private Health care
The Complementary and Alternative Medicine Sector
Unit 2: Liaise Between Primary, Secondary and Community Teams
Primary Health Care Team
Secondary Health Care Team
Community Health Care Team
Forming Healthy Working Relationships with Others
Working Together in Teams
Working in Partnership with Others
Confidentiality
Legislation relating to information sharing
Work in ways that are agreed with the employer
Legal Responsibilities
Summary of legislation and regulations
Useful links
Unit 3: Support Individuals to Identify, Access and Use Services and Facilities
Services and Facilities about Which Individuals May Require Information
Services provided in an Individual's Home
Services and Facilities provided outside the Individual's Home
The Benefits of Accessing a Range of Services and Facilities
Identify Possible Barriers to Accessing and Understanding Information
Support Individuals to Understand Information
Check an Individual Understands the Information
Support Individuals to Identify and Select Services and Facilities
Agree Preferred Options for Services and Facilities
Support Individuals to Access and Use Services and Facilities
Support Individuals to Review Access to and Use of Services and Facilities
Methods of Giving Feedback
Other Sources of Support
Unit 4 Physical Resources to Meet Service Delivery Needs in a Health Setting
Physical Resources
Equipment, Supplies and Aids and Medications Needed By an Individual Receiving Care
IT Office Equipment and Supplies
Managing Physical Equipment Supplies and Materials
Plan the Use of Physical Resources
Obtain Physical Resources
The Purchasing Policy and Procedure
An Environmentally Friendly Purchasing Policy
Ensuring Continued Availability and Quality of Resources
Monitoring the Use of Physical Resources
Space Management
Safeguarding Equipment
IT Security
Managing Human Resources Efficiently
Unit 5: Give Customers a Positive Impression of Yourself and Your Organisation
Establishing Rapport with Customers
Responding Appropriately To Customers
Communicating Information to Clients
Requirements
There is no experience or previous qualifications required for enrolment on this course. It is available to all students, of all academic backgrounds.
Endorsement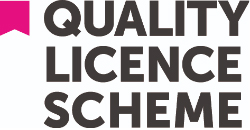 At the end of this course successful learners will be given the option to receive a Certificate of Achievement from the Quality Licence Scheme and a Learner Unit Summary (which lists the components the learner has completed as part of the course).
Level 3 Working in Health Care Certificate of Achievement
The course has been endorsed under the Quality Licence Scheme. This means that learndirect has undergone an external quality check to ensure that the organisation and the courses it offers, meet defined quality criteria. The completion of this course alone does not lead to a regulated qualification* but may be used as evidence of knowledge and skills gained. The Learner Unit Summary may be used as evidence towards Recognition of Prior Learning if you wish to progress your studies in this subject. To this end the learning outcomes of the course have been benchmarked at Level 3 against level descriptors published by Ofqual, to indicate the depth of study and level of demand/complexity involved in successful completion by the learner.
The course itself has been designed learndirect to meet specific learners' and/or employers' requirements which cannot be satisfied through current regulated qualifications. The Quality Licence Scheme endorsement involves robust and rigorous quality audits by external auditors to ensure quality is continually met. A review of courses is carried out as part of the endorsement process.
The Quality Licence Scheme is part of the Skills and Education Group, a charitable organisation that unites education and skills-orientated organisations that share similar values and objectives. With more than 100 years of collective experience, the Skills and Education Group's strategic partnerships create opportunities to inform, influence and represent the wider education and skills sector.
The Skills and Education Group also includes two nationally recognised awarding organisations; Skills and Education Group Awards and Skills and Education Group Access. Through our awarding organisations we have developed a reputation for providing high-quality qualifications and assessments for the education and skills sector. We are committed to helping employers, organisations and learners cultivate the relevant skills for learning, skills for employment, and skills for life.
Our knowledge and experience of working within the awarding sector enables us to work with training providers, through the Quality Licence Scheme, to help them develop high-quality courses and/or training programmes for the non-regulated market.
*Regulated qualification refers to those qualifications that are regulated by Ofqual / CCEA / Qualification Wales
To view a sample of the Certificate of Achievement, please click here.
Sign up to our Newsletter