online only!

extra 5% off
10% OFF
Save £236.10 - Don't miss out!
Paid TEFL Internship in Vietnam
Get in touch with us and we'll call you back
Get in touch with us and we'll call you back
OUR PASS RATE
Teaching & Education
(National Average 73.8%)

79.3
%
SALE

Savings End Midnight Thursday 30th November

SALE

Savings End Midnight Thursday 30th November
Paid TEFL Internship in Vietnam
This Internship at a Glance
Teach and travel in Vietnam
12-month teaching internship
Airport pick-up
In-country cultural orientation with accommodation
Assistance finding accommodation
Support throughout the internship
Group size of up to 50 interns
US$1200-$2000 (£1,000-£1,800) monthly salary
About your Internship
The jewel in Southeast Asia's crown! If you like the idea of getting paid to teach and travel, whilst exploring a stunning new country – our Paid Vietnam TEFL Internship is right up your street! You could be spending a fun-filled 12 months living in an exciting new culture, while getting real teaching experience, making the most of the world-famous street food, exotic beaches and incredibly welcoming locals.
During your Internship, you'll earn a good salary which is yours to spend as you wish. The in-country team will assist you in sourcing safe, clean accommodation so you'll have the hassle of sorting where to live taken away. Plus, with visa help, airport transfers, ongoing in-country support and a brilliant orientation, you'll have everything sorted for you, leaving you free to focus on the fun bits!
The beauty of our Internships is that we organise everything for you – from getting TEFL qualified to sorting free accommodation, we've got your back!!
Before you hop onto that plane, we'll make sure you're fully prepared with our UK Government regulated and US-government approved 120 Hour Online TEFL Course. You'll benefit from unrivalled tutor support throughout your course and, upon completion, your shiny new certificate will be internationally recognised.
So, if you fancy continuing your TEFL career elsewhere, you'll be covered! You'll also benefit from full support before and during your internship through our dedicated Customer Support Team and our trusty in-country partners.
We can assist you with your internship application, give guidance on visas, provide help and support with any personal matters throughout your stay and answer any queries or concerns you might have in the run-up to your trip.
Our support doesn't end when the internship's over. Although it's not something you want to think about now, you may want to come back home! We'll be there post-job to offer further guidance, or other travel opportunities.
What's my role?
Although you'll be teaching the classes independently, it's likely you'll have a Vietnamese teaching assistant to give you a helping hand when needed! This way, you'll get some brilliant first-hand teaching experience, plus support from our in-country partner.
Your role as a TEFL Teacher consists of:
Teaching the school children engaging English lessons
Creating lesson plans, resources and marking
Conversing with the schoolchildren in English
18-25 working hours per week
Becoming everyone's favourite new teacher!
Let's talk money!
You'll be earning a salary of between US$1,200 to $2,000 per month so you can consume as much pho and bánh mì sandwiches (amazing Vietnamese food) as humanly possible!
Where will I be placed?
The Internship will take place in amazing destinations across Vietnam, including Hanoi, Hai Phong, Binh Duong, Bien Hoa and Ho Chi Minh City. Our dedicated and experienced in-country partners will match you with the most suitable school and accommodation. With over years of experience in sending TEFLers abroad, you can rest assured that the accommodation and schools we select have been given the seal of approval.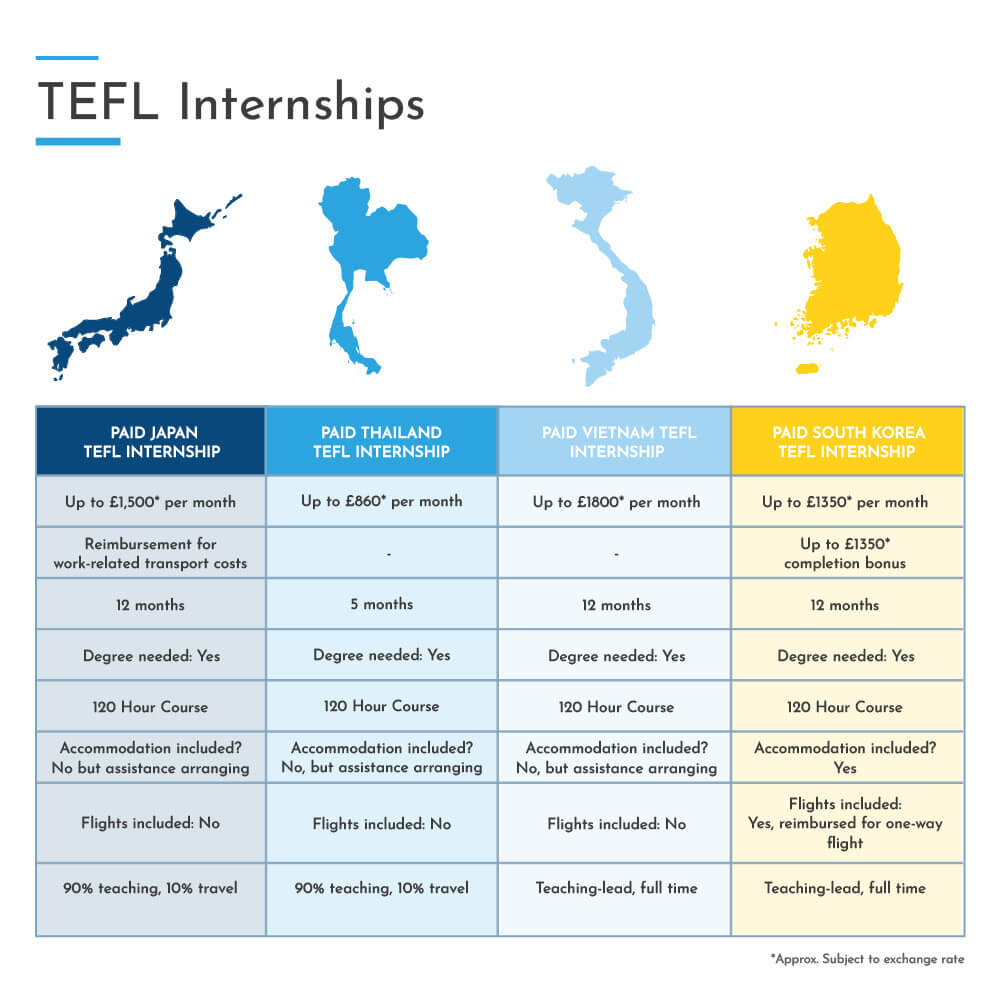 Course Breakdown
Online TEFL Course (120-hours) including lesson planning
Teaching in Vietnam Course
Internship Preparation Course
In-country orientation
To ensure that you are fully prepared to embark on your TEFL Internship, we've included additional training as part of your Internship.
Teaching in Vietnam Course
As part of this course, you'll build on the TEFL skills you gained in your 120 Hour TEFL Course and learn how to effectively teach English to Vietnamese students, what to expect from your teaching role, information on Vietnam's education system, and what life as a TEFL teacher in Vietnam will be like.
Internship Prep Course
Classroom Behaviour Course - learn how to effectively manage pupil behaviour in your TEFL classroom with our Classroom Behaviour Course. From making a strong first impression, and creating a positive learning environment to working with children with Special Education Needs and managing conflict - you'll be a behaviour expert by the end of this course.
Confidence Building Course - we know how daunting it can be taking your first steps into the TEFL classroom as a newly qualified teacher, that's why we've included this specialist course to give your confidence the boost it needs.
Writing Travel Blogs Course - whether you want to make some extra money, start a new hobby, or make your Instagram followers green with envy, this course will teach you how to write high-quality blogs and is a great skill to have as an English teacher.
Inclusions
Interns must have a native or near-native level of English to enrol and be aged between 20 and 59 years old. Interns must also have a Bachelor's degree qualification and a passport from either the UK, SA, USA, IRE, CA, AU, or NZ. Interns must have no criminal record and be in good health (must be confirmed with health check before departure), with no visible tattoos. Interns need to be in a good financial position - able to pay for the internship before travel and cover additional expenses, e.g. flights, insurance, legalisation costs, visas and bills, before the first pay check is received. Interns will receive a full refund if their application is rejected by our overseas partners (XploreAsia).
Minimum Age restriction
20-59
Average completion timeframe
5 months
Placement or Practical required
No placement or practical organisation required. The internship is organised by our partners (XploreAsia) on successful application.
If placement or practical required, when?
Arranged with overseas team
Is Membership Required?
No Membership
Additional requirements
Learners will need a desktop PC or a laptop to complete the course. iPads and/or mobile phones are not suitable.
Certification Timeframe
Learners can expect to receive their eCertificate within 7 working days of passing their course. Printed certificates are ordered separately (fees apply) and are delivered within 1 month of being ordered.
Extension Rules
£40 for 6 months extension is OK, TEFL course needs to be completed before internship starts
Course Fees
All course fees, inclusive of all payment plans including our Premium Credit Limited option, must be settled before certification can be ordered.
*You will have access to the course for 24 months.

Assessment
Our TEFL course incorporates quizzes, real TEFL examples, and videos to help you learn.
After you have completed all the requirements, you will have to undertake a final assessment to receive your qualification.
Qualifications
Gatehouse Awards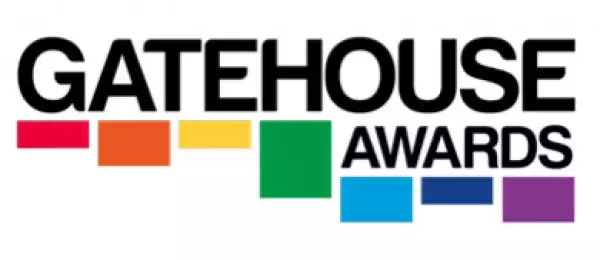 Once you've passed this course, you will gain the Gatehouse Awards Level 3 TEFL Diploma (RQF) (Ofqual qualification code = 603/0150/8).
Recognised by employers around the world.
Gatehouse Awards Ltd is a leading awarding body recognised by the Office of Qualifications and Examinations Regulation, England (Ofqual). They also have a significant international presence providing language testing services.
Am I eligible?
To be a fluent English speaker
To be aged between 20-59
Clean police check
You need a bachelor's degree
To be a native English speaker with a passport from South Africa, UK, Ireland, USA, Canada, Australia, or New Zealand
Full payment will be required before you travel
You do not need…
Prior teaching experience
To know a second language
Terms and Conditions can be found here.
Frequently Asked Questions
Enrolment dates
February 2024
April 2024
May 2024
July 2024
August 2024
October 2024
OUR PASS RATE
Teaching & Education

79.3
%
(National Average 73.8%)
120
guided
learning hours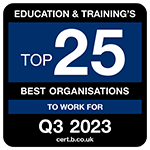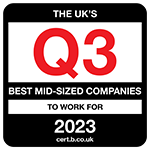 Sign up to our Newsletter