Holistic Massage
Put briefly, holistic massage is a type of tissue manipulation that has been in use and developed over thousands of years.
It uses the hands, parts of the body or mechanical means to actually manipulate the softer tissues within the body e.g.: the skin, muscles, ligaments and tendons. It has been used throughout time to promote relaxation, to aid the stimulation and rehabilitation of the entire body.
About Holistic Massage
This Holistic Massage course aims to teach the student all the relevant techniques and tools that can be used in holistic massage to ensure that they are able to treat the entire client, not just the symptom. This contrasts with the Western approach of just alleviating the symptoms using medicine and invasive procedures.
Modules
Lesson 1
Massage
History
Effects
The Holistic Approach
Lesson 2
Basic Anatomy and Physiology
Diseases and Disorders
Lesson 3
Contra-indications
Cautions
Intregal Biology
Lesson 4
Massage Techniques
Massage Mediums
Patch Testing
Lesson 5
Preparing to Treat
Creating the Correct Environment
Consultation
A Complete Massage Treatment
Treatment Sequence Order
Client Care
Lesson 6
Hygiene Procedures
After Care
Reactions to Treatment
Evaluating and Reviewing Treatment
Lesson 7
Applicable Legislation
Consent to Treatment
Other Therapies that can be used with Hot Stone Massage
Lesson 8
First Aid Emergencies
First Aid Training Providers
Life Saving Procedures
The Recovery Position
CPR
Choking
Heart Attacks
Shock
Allergic Reactions
Bleeding
Wounds
Nose Bleeds
Breathing Difficulties
Poisoning
Insect Stings
Epileptic Fit
Blood Sugar Levels
Burns
Strains and Sprains
Panic Attacks
Dizziness
Migraine
The First Aid Box
The Accident Book
Lesson 9
Positive Endings
Referring On
Ethics and Professionalism
Client Confidentiality
Record Keeping/Data Protection
Palliative Care
Lesson 10
Acupressure
Acupuncture
Alexander Technique
Aromatherapy
Bach Flower Remedies
Biodynamic Tissue Salts
Bowen Technique
Chiropractic
Colour Therapy
Crystal Therapy
Ear Candling
Herbalism
Homeopathy
Indian Head Massage
Iridology
Kinesiology
Meditation
Osteopathy
Reflexology
Reiki
Shiatsu
Stone Therapy
Yoga
Lesson 11
Finding Premises versus Working from Home
Accounting
The Law and You
Finding Clients
Advertising and Marketing.
Getting Clients
Expanding your Business
Continuing Professional Development
Conclusion
Requirements
There is no experience or previous qualifications required for enrolment on this course. It is available to all students, of all academic backgrounds.
Endorsement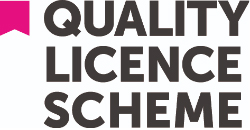 At the end of this course successful learners will be given the option to receive a Certificate of Achievement from the Quality Licence Scheme and a Learner Unit Summary (which lists the components the learner has completed as part of the course).
Level 3 Holistic Massage Certificate of Achievement
The course has been endorsed under the Quality Licence Scheme. This means that learndirect has undergone an external quality check to ensure that the organisation and the courses it offers, meet defined quality criteria. The completion of this course alone does not lead to a regulated qualification* but may be used as evidence of knowledge and skills gained. The Learner Unit Summary may be used as evidence towards Recognition of Prior Learning if you wish to progress your studies in this subject. To this end the learning outcomes of the course have been benchmarked at Level 3 against level descriptors published by Ofqual, to indicate the depth of study and level of demand/complexity involved in successful completion by the learner.
The course itself has been designed learndirect to meet specific learners' and/or employers' requirements which cannot be satisfied through current regulated qualifications. The Quality Licence Scheme endorsement involves robust and rigorous quality audits by external auditors to ensure quality is continually met. A review of courses is carried out as part of the endorsement process.
The Quality Licence Scheme is part of the Skills and Education Group, a charitable organisation that unites education and skills-orientated organisations that share similar values and objectives. With more than 100 years of collective experience, the Skills and Education Group's strategic partnerships create opportunities to inform, influence and represent the wider education and skills sector.
The Skills and Education Group also includes two nationally recognised awarding organisations; Skills and Education Group Awards and Skills and Education Group Access. Through our awarding organisations we have developed a reputation for providing high-quality qualifications and assessments for the education and skills sector. We are committed to helping employers, organisations and learners cultivate the relevant skills for learning, skills for employment, and skills for life.
Our knowledge and experience of working within the awarding sector enables us to work with training providers, through the Quality Licence Scheme, to help them develop high-quality courses and/or training programmes for the non-regulated market.
*Regulated qualification refers to those qualifications that are regulated by Ofqual / CCEA / Qualification Wales
To view a sample of the Certificate of Achievement, please click here.
Sign up to our Newsletter