CMI Award in Management and Leadership Level 5 (RQF)
SALE

Savings End Midnight Tuesday 31st January

SALE

Savings End Midnight Tuesday 31st January
CMI Award in Management and Leadership Level 5 (RQF)
This Course at a Glance
Take the step up to middle management roles
Evaluate leadership styles and techniques for creating a cohesive team
Gain a nationally recognised Level 5 CMI qualification
Equivalent to a Foundation Degree
For learners aged 18+
100% online course
No exams
About Your Award
The Level 5 suite of Management and Leadership qualifications on offer with The Chartered Management Institute (CMI) are perfect for you if you're an aspiring management professional or an existing one who reports to the senior management team or a business owner.
Explore Management And Leadership In Detail
As a middle manager, you need to be able to take charge and inspire both individuals and teams to deliver organisational aims and objectives in line with the business strategy.
Through studying the Level 5 Award in Management and Leadership, you will advance your understanding of ethical leadership and how culture and values can impact it.
You will also examine different models of leadership and the concept of empowerment while considering the techniques and methods for leading others.
Advance Your Abilities
With the knowledge gained, you will become better equipped to handle middle manager duties such as:
Developing teams and individuals
Creating operational plans
Planning and managing projects and change
Overseeing finances and resources
Getting Started
learndirect is the leading UK online course provider, enabling learners of all lifestyles to juggle education easily with their schedule. This CMI Level 5 Award in Management and Leadership is a nationally recognised qualification that shows employers you're well equipped for a middle management role.
Only The Best For Our Learners
The Chartered Management Institute (CMI) provides the highest standard of education in the management and leadership domain. This is because the CMI is the benchmark professional body for the management and leadership sector, and it's the only sector-related organisation that can award Chartered status to leadership and management professionals.
Flexible Learning
Don't stress about juggling your existing commitments with your studies. As an online course, there are no classes or timetables to worry about. This means you can move through the course materials at your pace and get qualified when you're ready.
If you aren't already a CMI member, you will also gain access to a free Affiliate membership with the CMI for the duration of your studies!
Modules
Unit CMI 526: Principles of Leadership Practices
Guided Learning Hours – 30
Total Unit Time – 80
Credits – 8
Upon completion of this unit, you will:
Understand leadership practice in an organisation
Understand leadership styles
Understand the impact of leadership within organisations
Entry Requirements
Anyone aged 18 and above can enrol on this course.
Experience in a leadership or management role is highly beneficial to completing this course. However, there are no specific entry requirements to enrol.

Assessment
There are no exams involved in this course. Instead, you will evidence your understanding by passing a range of assessments.
Please note that you will need to sign and date a Statement of Authenticity to confirm the assessments you submit have been completed by yourself and not a third party.
Qualifications
CMI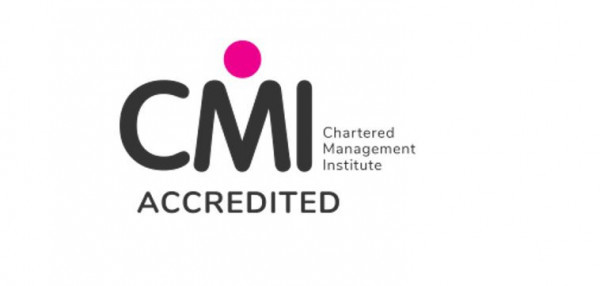 Upon successful completion of this online course, you will have achieved a nationally recognised Level 5 Award in Management and Leadership (qualification number: 603/2390/5).
The Chartered Management Institute is a professional institution for management based in the United Kingdom.

By completing this Level 5 Award in Management and Leadership, you will have advanced your understanding of the concept of management and leadership to effectively handle tasks associated with middle management roles.
This could be anything from identifying new approaches to business activities, to managing quality, continuous improvement, or the human resources function.
With this qualification to your name, you can pursue or progress to roles such as:
Departmental Manager
Divisional Manager
Operations Manager
Regional Manager
Specialist Manager
Further Qualifications and Prospects
Following the Level 5 Award, you can move on to the next courses in the suite of Level 5 qualifications on offer with the CMI.
Through learndirect, this includes the:
Level 5 Diploma Management and Leadership
After which, you can further your ongoing personal and professional development by completing our range of Level 7 CMI Qualifications in Management and Leadership, and work to achieve Chartered Manager status.
Sign up to our Newsletter