25% OFF
Save £22.00 - Don't miss out!
Business Strategy (Byte Size Skills Course)
Get in touch with us and we'll call you back
Get in touch with us and we'll call you back
OUR PASS RATE
Business & HR
(National Average 51.8%)

97.5
%
SALE

Savings End Midnight Tuesday 12th December

SALE

Savings End Midnight Tuesday 12th December
Business Strategy (Byte Size Skills Course)
Every year thousands of new businesses are created. A few will grow to become global companies employing thousands of people, others will never make the world stage; in fact, the majority will cease trading within two or three years.
To survive, managers need a good understanding of the business environment, the opportunities and threats it offers, a realistic appreciation of the abilities and limitations of the business, knowledge of what they want to achieve, and a fairly clear idea of the direction in which the business should go. The route the business takes to achieve its objectives is often known as the corporate or business strategy. In this course, we look at some of the tools that we can use to decide on the strategy.
As you will see, the tools we describe are those which link the various functions of the business and are to do with operating the business as a complete organisation rather than as a collection of functions or departments. The business strategy concerns the overall direction of the organisation. Here, we consider the operational or functional strategies that contribute to the business strategy.
After participating in this course, you should be able to:
explain how businesses need to align their objectives and capabilities with the needs of their customers and with the environment
give examples of business objectives, mission and value statements
understand how the business environment provides opportunities for the business but also limit its freedom of action
explain how the resources and behaviour of the organisation constrain the choice of strategy
describe a range of business strategies and explain the circumstances in which they might be appropriate for a business
describe how an organisation copes with an uncertain future and responds to complex environmental change.
Introduction
Objectives
Section 1: Environment, Values and Resources
Introduction
1.1 Values
1.2 Resources
1.3 Environment
Summary
Section 2: Strategic Planning
Introduction
2.1 Types of business strategies
2.2 Choosing a strategy and setting targets
2.3 Implementing strategy
Summary
Course Review Activity
Course Summary
References
Recommended Reading
Tutor-marked Question Paper
Modules
Assessment Method
After each lesson there will be a question paper, which needs to be completed and submitted to your personal tutor for marking. This method of continual assessment ensures that your personal tutor can consistently monitor your progress and provide you with assistance throughout the duration of the course.
What's Included
All study materials
Study Guide
Full Tutor and Admin support
Entry Requirements
There is no experience or previous qualifications required for enrolment on this course. It is available to all students, of all academic backgrounds.
All course fees, inclusive of all payment plans including our Premium Credit Limited option, must be settled before certification can be ordered.
*You will have access to the course for 24 months.
Qualifications
On successful completion of your course you will receive the learndirect Certificate of Completion of Training in Business Strategy (Byte Size Skills Course).
Your course certificate will also state the number of CPD points/hours the course is eligible for.
View a sample of the certificate (opens in new window)
learndirect is one of the largest integrated providers of courses and qualifications, training, and employment services in the UK
Each year around 6,000 businesses equip their staff for success with learndirect
learndirect have helped more than 75,000 businesses equip their employees with the skills needed to improve productivity.
Almost 700,000 maths and English test passes have been achieved with learndirect.
300,000 people fulfilled their career ambitions last year with learndirect.
Over 250,000 apprentices have achieved with learndirect.
OUR PASS RATE
Business & HR

97.5
%
(National Average 51.8%)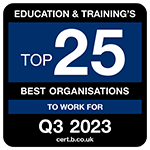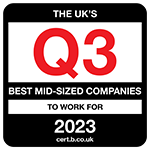 Sign up to our Newsletter