Whether you're just getting started as a Web or Software Developer, looking for helpful resources to boost your knowledge, or dabbling in programming, it's worthwhile to find social media accounts that strengthen your overall understanding. It's a fun way to explore the perspective of Developers worldwide and discover handy solutions, tools, and ways in which to optimise your code for its intended use!
We want to showcase some really educational Instagram accounts that aren't really focused on showing their desktop setups or sharing selfies so much. Our selection of Instagram accounts provide helpful tutorials, step-by-step guides and problem-solving tips.
Check out our top 8 picks of awesome Insta go-to's to inspire and improve your coding know-how below!
1 - @coding.beast
If you work in web development, Coding Beast has a wealth of informative posts on tips and tricks for working with Javascript, React, improving your CSS skills and other useful thoughts and ideas for front-end development. There's even posts about typical questions in Web Developer interviews and suggestions for first-time Coders looking to level-up their abilities. The feed is really easy to navigate for finding particular topics.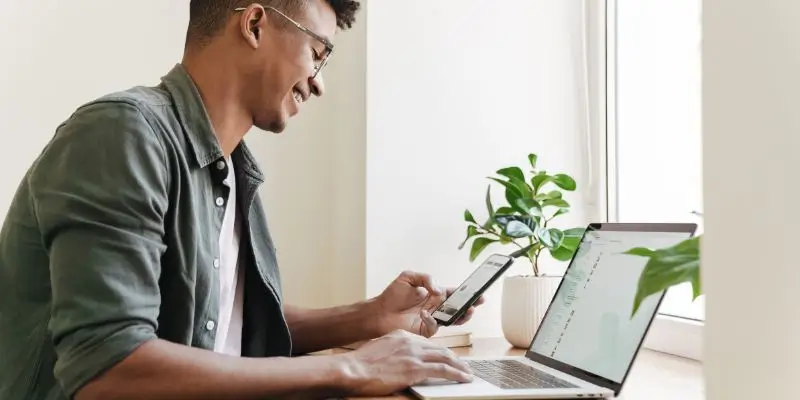 2 - @samanthaming
Samantha Ming is another front-end developer who shares a lot of great graphics and screenshots that cover key areas to learn within HTML, Javascript and CSS. Her page is very visually appealing too, so it makes looking thrSugh her insights and lessons thoroughly enjoyable. We recommend this page if you're looking for fun, digestible content to add to your feed!
3 - @coder.journey
Full-Stack Engineer Jamal Errakibi's Instagram page presents lessons in code quite uniquely. Through his illustrations and storytelling, Errakibi's creative method of teaching keeps things interesting for his followers. Great for adding some variety to your coding content! His Instagram feed covers project ideas, SQL, Rest API and much more.
4 - @theindiandev
Ayush Kulshrestha's Instagram is another super informative source for coding. From JavaScript solutions, navigation and problem-solving with React, to working with data structures and top skills needed to being successful in backend development. If this is your area of interest, check out his Instagram for loads of helpful guides.
5 - @alenvarazdinac
Web Developer Alen Varazdinac prides himself on helping Developers online level-up and provides his followers with useful destinations, advice and tips for succeeding as a Developer. There's tons of pointers and IT knowledge on his Instagram. You can find anything from learning about algorithms to data storage, CSS, app suggestions and beyond!
6 - @womenwhocode
It's true that women only makeup 40% of the tech and IT workforce worldwide. There's a bigger push than ever to reverse these concerning figures and encourage more women to learn key tech skills like coding. Women Who Code is a US based non-profit that offers resources like videos and webinars to women going into the tech industry. Their page shows insight interviews with leading women in tech, industry statistics and motivation for women on their journeys to become elicit Coders.

7 - @sikho_programming
Sikho Programming is packed full of tips for using Python, data structures, C++, HTML and a lot more. Subjects are grouped together in several posts and colour coded to find what you're after very quickly as well which is beyond helpful! It's a well-organised and thoughtfully laid out feed that is bound to assist Coders of all levels.
8 - @plavookac
Jelena Jovanovic's Instagram has a bit of a different aesthetic compared to the other accounts featured, but she provides loads of great book recommendations throughout her feed for some excellent reading! So if dog pics, coding books, and motivational quotes are what you're after, check out her page for help expanding your book collection.
Become An In-Demand Tech Professional
Tech professionals are in very high demand in the UK right now, so if you're considering a career in this space, now is the time to make it happen. The UK tech industry is growing rapidly, and the shortage of workers is creating an opportunity for those with the desired skills to command high salaries and have a lot of job security.
According to a recent report by Tech Nation, there were over 870,000 technology and digital job vacancies open across the UK in 2022. This is a significant increase from the previous year, and it is expected to continue to grow in the coming years.
Some of the most in-demand tech jobs in the UK include:
Software Developers
Data Scientists
Cyber Security Professionals
Cloud Architects
IT Project Managers
UX/UI Designers
DevOps Engineers
Machine Learning Engineers
Blockchain Engineers
With the right education and experience, you can have a successful career in any one of these areas.
Study Online with learndirect
It's never been a better time to take your passion for tech and code into a coveted career! If you're looking to dip your toe in the water and get accustomed to the IT realm, we offer an online Information Technology Certificate.
If you're ready and raring to get on the way to a career in this space, our online Access to Higher Education Diploma (Computer Science) will enable you to study a related degree without A Levels. Or, you can get on the fast track to the final year of an IT degree by completing our Computing Degree Pathway.
We have options to suit every situation so give us a call to find the best course for your needs! Speak to our team on 01202 006 464, chat with us online, or check out our range of IT courses below!