Choosing a flexible career is important for new parents because it allows them to balance their work and family responsibilities more effectively. With childcare rates increasing year on year, the time off needed to attend medical appointments for newborns, and care for their children when they bring bugs back from nursery and school, it's a tough juggling act when holding down a job!
If you're a new parent looking for a more flexible career, check out these 5 that are well-suited to your situation below.  
Top 5 Flexible Jobs for Parents
These careers all offer a high degree of flexibility, allowing new parents to work from home, set their own hours, and take time off when needed.
Virtual Assistants
Virtual assistants typically work on a freelance basis, which gives them the flexibility to choose their own clients and set their own hours.
More about this career path:
Flexibility: Virtual assistants provide administrative support remotely, allowing them to work around their family's needs
Wide Range of Tasks: Virtual assistants can handle various tasks, from scheduling to email management, offering diversity in their work
Remote Work: This job can often be done entirely online, eliminating the need for commuting
You can prepare for a career as a virtual assistant by studying our online business administration courses.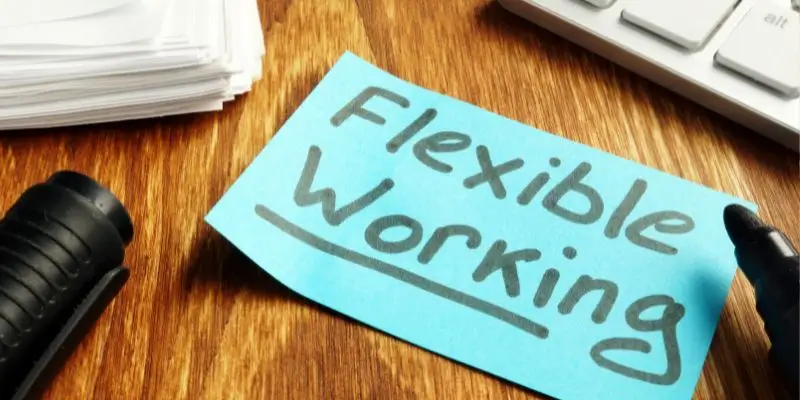 Freelance Writers and Editors
These freelancers create and edit content for a variety of clients, including businesses, magazines, and websites. They can work from home and set their own hours, making it a good option for new parents.
More about this career path:
Flexibility: Freelance writing and editing can be done on a flexible schedule, allowing parents to work when their children are napping or otherwise occupied
Creativity: This career allows individuals to showcase their creative skills while earning an income
Low Overhead: Freelancers typically have low overhead costs, as they can work from home and use existing equipment
Study our online editing and proofreading course, and writing courses to get ready for these roles!
Social Media Managers
Those in this role create and manage social media content for businesses and other organisations. They can work full-time or part-time, and they often have the flexibility to work from home.
More about this career path:
Flexibility: Freelance social media managers have control over their schedules, allowing them to work around their parenting responsibilities. Whereas part-time roles in social media management offer the freedom to work fewer hours and adjust schedules as needed
Remote Work: Many social media tasks can be done remotely, providing the freedom to work from home
Varied Clients: Freelancers can choose clients and projects that align with their availability and interests
Supplemental Income: Part-time positions can supplement family income or provide a transition back into full-time work
Our Chartered Institute or Marketing Courses are perfect for new parents looking to get started in this space.
Web Developers
These digital creatives design, create, and maintain websites and web applications. They can work full-time or part-time, and many web development tasks can be completed remotely, eliminating the need for a commute.
More about this career path:
Flexibility: Some web development positions offer remote work options, allowing parents to work from home while adhering to project deadlines
Steady Demand: Web development skills are consistently in demand, providing a reliable income source
Work-Life Balance: Remote work can promote a healthier work-life balance for parents
Studying our IT Degree Pathway is the perfect way to elevate your skills for this flexible computing career.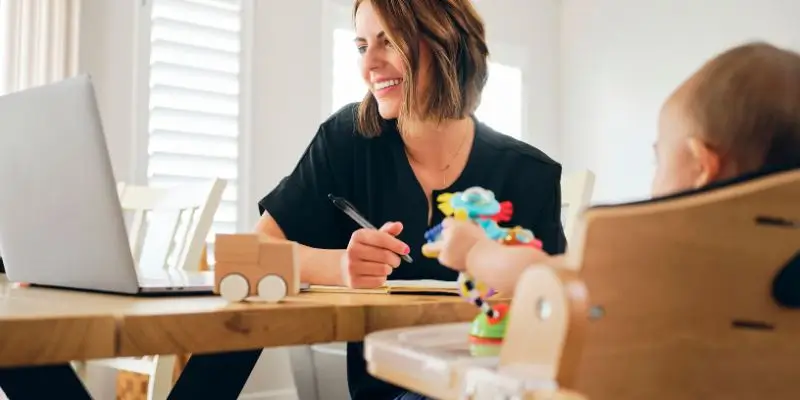 Nurses
Nurses work in a variety of settings, including hospitals, clinics, and schools. They typically work full-time, but there are many opportunities for nurses to work part-time or on a flexible schedule.
More about this career path:
Flexibility: Part-time nursing positions enable parents to work fewer hours or select shifts that align with their family's needs. Home health nurses often have more control over their schedules, allowing them to visit patients while adjusting for family responsibilities
Healthcare Skills: Nurses can leverage their healthcare expertise while accommodating their parenting responsibilities
Varied Settings: Various healthcare facilities offer part-time nursing roles
Our online Access to Higher Education Diploma (Nursing) will get you on the fast track to your nursing degree so you can get qualified sooner.
In addition to these careers, there are many other flexible career options available to new parents. The key is to find a career that matches your skills and interests, and that offers the flexibility you need to balance your work and family life.
Tips for Finding a Flexible Career as a New Parent
Finding a flexible career as a new parent can be challenging, but it is possible. By following these tips, you can increase your chances of finding a career that allows you to balance your work and family life.
Consider your skills and interests - What are you good at? What do you enjoy doing?
Think about your flexibility needs - How much flexibility do you need in your work schedule? Do you need to be able to work from home?
Research flexible career options - There are many resources available online and in libraries to help you find flexible career options
Network with other new parents - Talk to other new parents to learn about their flexible work arrangements and how they found them
Speak to an advisor at learndirect – Chat with our friendly team about the careers that would suit you as a parent, and how we can help you get qualified!
Let us help take the weight off your shoulders as a parent by helping you get into a job that suits your situation. Whether you want to use your existing skillset for a more flexible version of your career or retrain for something entirely new, every journey is different, and we are here to help you on yours.
Click below for more information on our courses or contact our team on 01202 006 464 or online today!