A career as a Science Teacher will provide you with the opportunity to guide students of all ages, engaging them with information in a way that will inspire their passion for learning and help them develop their own love for science as they explore the laws of the natural world.
With such a wide range of subjects to choose from, there are several options that can be pursued as a teaching career, such as physics, biology, chemistry, and even astronomy and earth sciences. The science fields that are often pursued as a career, however, are rarely decided upon based on choice and are often driven by a specific passion for a certain topic.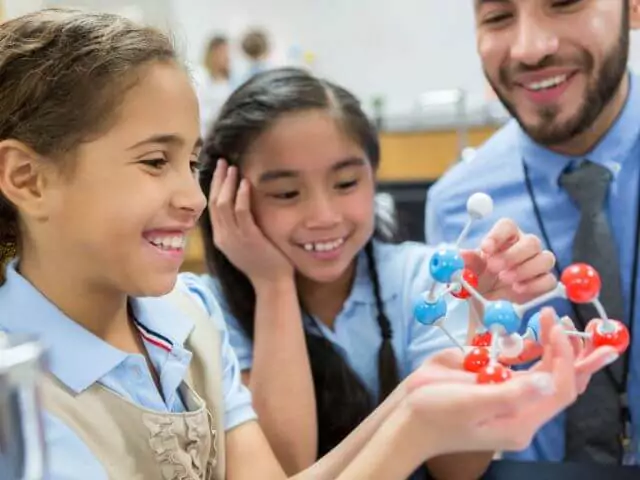 Whether you decide to teach primary school science or secondary school chemistry, you will have the ability to make a real difference in the lives of your students, possibly even inspiring them to pursue their own careers in science.
For anyone considering a future in teaching science, developing a well-rounded understanding of the various subjects is a must, as you may be required to teach science as a wider subject as opposed to separately. This can be a challenge, especially for those who have dedicated their learning to one specific area, however, helping students find their own love for science and identify their preferred field is incredibly rewarding.
All great Science Teachers have a few things in common, patience, organisation, and the ability to take complex ideas and simplify them in a way that students understand. If you share these traits, then you have the potential to be a great Science Teacher and help shape the next generation of scientists and innovators.
What Does A Science Teacher Do?
If you're considering starting a career as a Science Teacher, you'll no doubt be keen to better understand the responsibilities of the role and what you can expect to be doing as part of your day-to-day. 
Science is considered to be one of the most important subjects in the British curriculum and is regarded by many to be as essential as Maths and English due to its significance to a student's life and the skills it teaches around critical thinking and problem-solving. These are skills that a student will carry with them into adult life and that will help them form rational, well-considered decisions in all areas of their life.
Science Teachers are also required to:
Prepare lessons, practical and theoretical experiments and any learning material required, ensuring everything is in line with the national curriculum
Encourage students to question hypotheses and help them develop the skills needed to safely conduct experiments and analyse the results and determine their findings
Track the continued development of each student, supporting them where required to ensure they meet academic benchmarks
Setting and reviewing homework and coursework and/whilst providing feedback to the student
Ensure that your personal development is maintained and that you remain aware and up to date with any changes to teaching practices, education law, curriculum and policies.
Create a learning environment grounded in inclusivity that champions those who ask questions and encourages students with a thirst for knowledge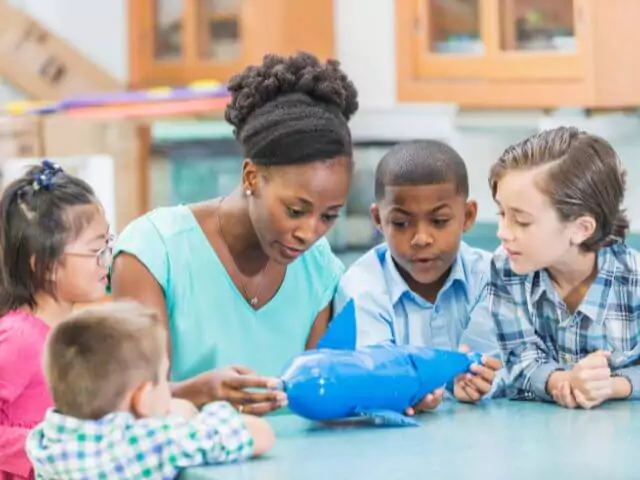 How To Become A Science Teacher
What Qualifications Do You Need?
Becoming a Science Teacher in the UK is a life-changing career path, but you will need to achieve certain qualifications before you can be considered classroom-ready.
You will need to gain a degree in a science-related subject such as biology, chemistry, or physics, following which you may choose to obtain a postgraduate certificate in education (PGCE). This can take between 12-24 months to complete, and it's not required for you to be able to teach, it is however government funded which will allow you to save money whilst gaining a recognised qualification.
To teach in the UK, the only things you need are Qualified Teacher Status (QTS) or the equivalent Qualified Teacher Learning and Skills (QTLS) status, which can be applied for through your membership with the Society for Education and Training (SET), and a DBS certificate confirming you are able to work with minors.
Looking past the qualifications, it's also important to have a genuine passion for science, a strong work ethic, and the ability to connect with and inspire young people.
What is needed to become a Science Teacher?
A minimum of 5 GCSEs graded between 9 to 4 (A* to C), or equivalent, including science English, and Maths
A degree in a science-related subject such as biology, physics, or chemistry
Qualified Teacher Status (QTS) or Qualified Teacher Learning and Skills (QTLS) status
DBS Certificate or equivalent background check
Fluency in both written and spoken English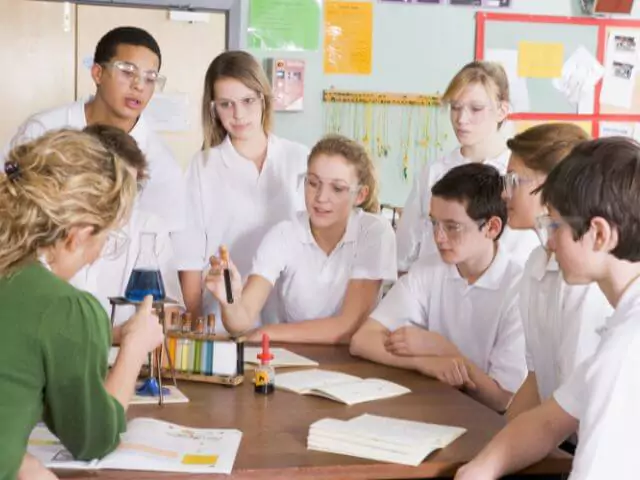 Can you be a Science Teacher without a degree?
Absolutely. Whilst the university route is without question the recommended pathway to a career in education, it is by no means the only way.
There is no longer a need to go to university with the ability to gain the qualifications you need predominantly from the comfort of your own home. QTLS status bypasses the need for degree-level credentials and is a recognised equivalent to QTS (Qualified Teacher Status) and can be applied for, provided you meet the following criteria:
You are a current member of the Society for Education and Training
You have achieved a teaching qualification at Level 5 or above such as learndirect's Level 5 Diploma in Education and Training (RQF)
You have gained a Level 3 qualification in the subjects that plan to teach including any SEND qualifications if required for your role
You must be teaching or training in a Further Education and Training setting throughout the Professional Formation programme (minimum 4 hours per week)
You must have identified a suitable supporter
Do I Need Work Experience To Be A Science Teacher?
Work experience is undoubtedly valuable for anyone studying to become a qualified Science Teacher. Gaining experience in a relevant field, working in a lab, or even teaching science at a secondary school level, can provide a more detailed understanding of the subject matter and increase your credibility as a Science Teacher.
However, work experience is not always a strict requirement for becoming a Science Teacher in the UK. By obtaining Qualified Teacher Learning and Skills (QTLS) status you can bypass the need for traditional work experience completely. QTLS is a professional status that recognises the knowledge and skills of teachers who have not followed a traditional path into the profession and is accepted by schools up and down the country. So, while work experience can certainly be beneficial for Science Teachers, it is not always a strict requirement, and alternative pathways, such as QTLS status, can provide opportunities for individuals to get started in their careers without traditional work experience.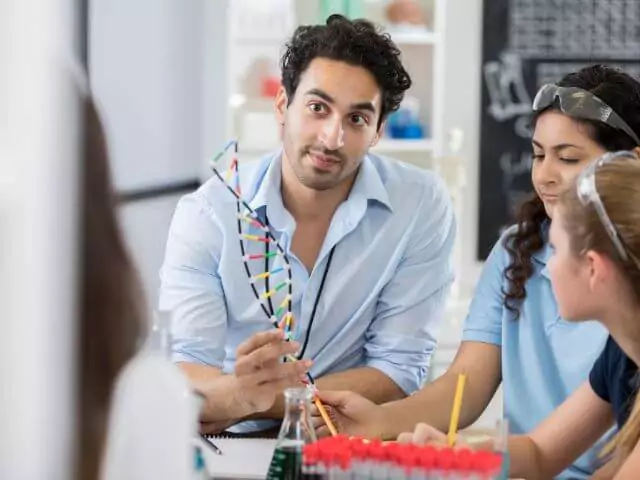 Getting Hired as a Qualified Science Teacher
Finding your first role as a qualified Science Teacher can be a daunting experience. However, there are several things you can do to help secure your first teaching post.
Firstly, it's important to do your homework (see what we did there) and research the schools in your surrounding area targeting your job search to those that align with your values and teaching philosophy.
Secondly, make sure that your CV is up to date and that your cover letter has been written specifically for the post that you're applying for. Emphasise any key skills, qualifications and note-worthy experience that will be useful to the post and explain how they make you the best candidate for the role.
Finally, prepare yourself for your interview by researching the school, considering the questions that you might be asked, and practising your responses; a quick Google search will return a list of common interview questions used by schools.
By doing so, you'll feel more confident and be better prepared to display your suitability for the role. Preparation and confidence are skills that all teachers should have so it's important that any potential employer can see this in you from day one. Also, ensure you have all your documents and certifications available should they be required.
Renewal Of Accreditations
Whilst not an immediate concern at such an early stage in your teaching career, the need to renew your accreditations is something you should consider and even plan for. Not only will it show your commitment to continuous learning and professional development it will ensure you stay ahead of curve on things such as teaching trends and policies. Science is a field that is full of new and emerging research, theories, and strategies, and teachers who don't stay informed and up-to-date risk becoming less effective in the classroom.
How Much Does A Science Teacher Earn?
The earning potential for a Science Teacher in the UK is good, with opportunities to increase their salary through experience, additional qualifications, and promotion. According to the National Education Union, the average starting salary for a newly qualified teacher in the UK is around £25,714, with opportunities for progression to higher pay scales. Teachers can increase their earnings further by taking on additional responsibilities, such as becoming a Head of Department or leading extra-curricular activities. According to the Department for Education, the upper pay range for teachers in England and Wales is currently £40,490, with additional allowances for teachers working in inner London. Reviewing the salaries listed for live opportunities in your area, will provide you with a fair reflection of your realistic earning potential.
How Can learndirect Empower You To Reach Your Potential?
learndirect can help you gain the qualifications you need to obtain QTLS status. Our Level 5 Diploma in Education and Training (RQF), will satisfy the entry requirements for this status ensuring you are well on your way to becoming the Science teacher you were born to be.
Get started on the road to becoming a Science Teacher and speak with one of our course advisors today, if you're considering a new career as a Science Teacher as we can help you. 
Let's discuss your career plans and help you gain the qualifications you need to become a Science Teacher.
Call us now on 01202 006464 or speak to us online here