Forest School is an educational experience where young children learn about wildlife, the environment and sustainability. It usually takes place in an outdoor setting or forest and is run by educational professionals in schools or nurseries.
It's a line of work that is highly appealing to anyone who has a passion for nature. You'll help young people in their learning and development while getting them to appreciate our flora and fauna from an early age. As such, it's a highly critical role in shaping the way future generations care for our natural world.
If you're keen to inspire the next generation to embrace the outdoors and become better custodians of our planet, you can get the training you need to become a Forest School Leader online.
What Qualifications Do You Need To Run A Forest School?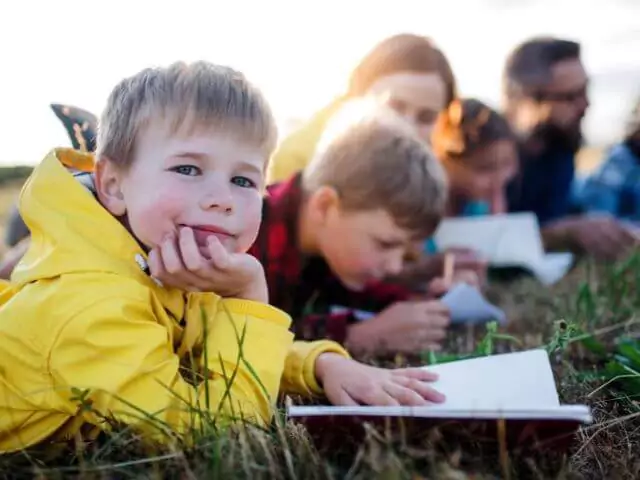 To run a Forest School Programme, you need to become a qualified Forest Schools Practitioner. This requires you to get a Level 3 qualification.
This is quite important as there are other forest school qualifications you can complete at different levels that qualify you for different roles. So, it's essential you choose the right one for the job you want.
The Different Types of Forest School Training
The level of course you complete depends on whether you're looking to lead a class, support the learning in Forest School sessions or dip your toe in the water before deciding to get fully qualified:
Level 1 Award
This course acts as an introduction to Forest School and is perfect for anyone wanting to explore this form of education before taking the plunge into more detailed courses of study. By completing a Level 1 training course, you'll have an understanding of Forest School principles and practice, but only to a point where you can help others who are providing the learning.
Level 2 Award
If you want to take a more active role in providing the education on offer, completing Forest School courses at Level 2 will qualify you for a more senior position.
The Level 2 Award is designed for getting aspiring Forest School Assistants job ready by going deeper into the Forest Schools theory. With this heightened knowledge, you'll be able to help leaders plan and deliver lessons, and support learners on their educational journey.
Level 3 Certificate
If you're wanting to become a fully-fledged Forest School Leader, you'll need to complete Level 3 Forest School training. This allows you to truly take charge of the outdoor learning experience for children and young people, and earn a higher salary in the process.
Aside from taking a deeper dive into the theory surrounding the ethos of Forest Schools, training Level 3 courses also include the opportunity to develop essential practical skills. Therefore, you gain the vital hands-on experience you need to lead children in an outdoor environment.
Choosing Your Training Provider
No matter which level of qualification you're looking for, the main thing you need to make sure of when deciding is that your course is recognised by the Forest Schools Association (FSA). By having the FSA seal of approval, you know that qualification - and the awarding body providing it - has been through a thorough quality assurance process.
Why Complete Online Forest School Training?
Just as there are different levels of qualification you can obtain, there are different ways you can complete your Forest School training.
You might be looking to transition into this career while holding down your existing job, while you juggle childcare or other responsibilities. In many cases, completing the qualifications you need in a classroom isn't always feasible.
Thankfully, certain FSA Endorsed Forest School Trainers provide their courses online, so you have the option of getting your Forest School Level 3 qualification in a way that suits your lifestyle.
Online courses are unrivalled when it comes to the flexibility they offer. There are no course dates, no terms times, and no classrooms you have to rush to attend. By simply logging into an online learning platform and completing your studies when you're available, you have a completely stress-free study experience.
What's more, they still provide essential hands-on experience, by incorporating a mandatory practical placement so you can refine your skills and build your confidence.
Get Qualified With Us!
Our Level 3 Certificate for Forest School Leaders is an online leader course that's provided by AIM Qualifications and Assessment Group (previously OCNWM) – an FSA Endorsed Awarding Organisation.
This qualification was developed with the Forest School Association and specialists in Forest School delivery to equip you with the necessary skills and knowledge you need to run a Forest School Programme. This makes our qualification the most widely accepted and recognised in the industry. 
Over a range of fascinating modules, you'll explore everything from outdoor first aid to how to set up and run a Forest School programme.
No matter if you're a Youth Worker or a teaching professional looking to segway into this avenue of education, or you want to take your passion for conservation in a whole new direction, we have the convenient training course for you!
Check out our online course in more detail on our website by clicking below.