As a Personal Trainer, few things are more rewarding than helping someone achieve their fitness goals. But if you're a PT who specialises in training pre and postnatal individuals or those going through the various stages of menopause, the rewards go even deeper. Working with clients in these stages of life requires a specialised approach and a deep understanding of the challenges that fluctuating hormone levels can have on physical exercise.
As the body changes through these stages, how we train must be adapted. It's essential for individuals to work with a PT who understands the unique challenges and considerations of training in these phases. This is especially true in pre and postnatal exercise, where the safety and well-being of both mother and baby are most important.
It's also important for those going through menopause, where hormone fluctuations can cause changes in energy levels, body composition, and mood. A knowledgeable PT can help their clients navigate these changes and adjust their training programmes accordingly.
What is a Pre/Postnatal Personal Trainer?
These trainers are experts in working with clients during and after pregnancy and can help their clients stay fit, healthy, and strong throughout their journey.
So, what does a Prenatal and Postnatal Personal Trainer do? Well, first and foremost, they understand pregnancy's unique needs and challenges. They have specialised knowledge in anatomy, physiology, and exercise programming that allows them to tailor workouts to the specific needs of each trimester. They can help their clients safely and effectively exercise throughout their pregnancy, providing necessary modifications and adjustments.
In the first trimester, Prenatal Personal Trainers can help their clients manage fatigue and morning sickness while staying active. They focus on gentle exercises that can help with circulation and flexibility, such as yoga, Pilates, and walking.
In the second trimester, the focus shifts to maintaining overall fitness. Trainers might incorporate resistance bands, light weights, and bodyweight exercises to help clients stay strong and toned.
In the third trimester, trainers help their clients prepare for labour and delivery by focusing on breathing exercises, stretches, and movements that can help with relaxation and pelvic floor strength.
Following childbirth, a Postnatal Personal Trainer will support individuals as they work to regain their strength, mobility, and overall fitness. They work closely with their clients to develop personalised workout plans that are safe and effective, considering the physical changes and limitations that can arise after pregnancy and childbirth.
A Postnatal Personal Trainer can also provide guidance on exercises that target specific areas of the body, such as the pelvic floor and abdominal muscles, which can become weakened during pregnancy. They may even provide valuable support and motivation to new mothers as they navigate the challenges of motherhood and prioritise their own health and well-being.
In the UK, there aren't many Personal Trainers with the specialist knowledge required to train people through pregnancy. This means that finding a Prenatal or Postnatal Personal Trainer might be a bit more challenging, equally for those looking to break out in this area and start offering these services; there will be very little competition and very high demand.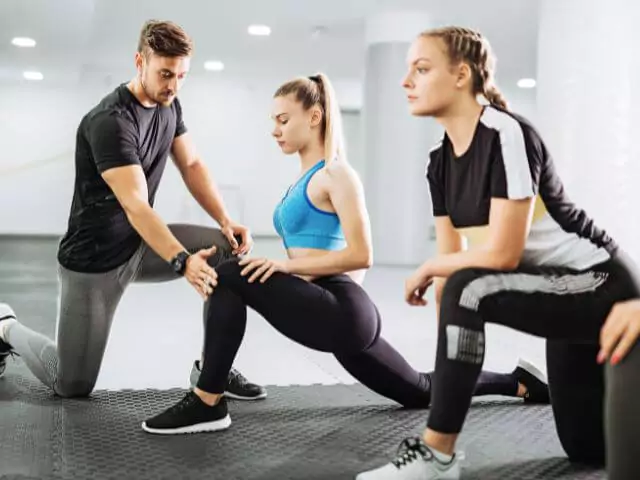 Personal Training for Menopausal Clients
A Menopause Personal Trainer is a fitness professional who specialises in helping clients through the various stages of menopause. They understand the unique challenges that come with this stage of life and have the knowledge and expertise to help their clients navigate these changes.
So, what do Menopause Personal Trainers do exactly? Well, they provide their clients with customised fitness plans tailored to their specific needs and goals. This might include exercises to strengthen bones, improve balance and flexibility, and reduce the risk of heart disease. They also help their clients manage symptoms such as hot flashes, changes in their mood, and weight gain by offering advice on nutrition, stress management, and sleep.
But why is it essential to have a Menopause Personal Trainer? Well, unfortunately, there aren't many fitness professionals in the UK with the specialist knowledge required to train people through pregnancy. This means that many menopausal clients are left feeling unsupported and unsure of how to manage their symptoms. By working with a Menopause Personal Trainer, clients can feel confident that they are getting the right support and guidance to help them through this stage of life.
Gain The Skills to Make a Difference
You may have noticed an increasing demand in the UK for Personal Trainers who have specialist knowledge and expertise to support people, particularly women, through various stages of their lives. This demand is particularly high for trainers who have a deep understanding of prenatal and postnatal exercise to menopause and beyond.
The good news is that if you're a qualified Personal Trainer, by gaining this experience, you'll be able to increase your client base and earning potential. Clients are looking for trainers who understand their unique needs and can provide tailored workout plans that account for their physical, emotional, and hormonal changes. By positioning yourself as a specialist in this area, you'll be able to attract and retain clients who are looking for precisely that kind of support.
What's more, gaining this knowledge can also help you to expand your services and offer new and exciting packages that target this specific demographic. For example, you could offer prenatal and postnatal fitness classes or design workout plans that specifically address the symptoms of menopause.
By investing in your education and gaining the skills and knowledge to support people through all stages of their life, you'll be setting yourself up for success in a growing and in-demand market. Not only will you be able to increase your earning potential, but you'll also be able to make a meaningful impact in the lives of your clients.
Getting Started
Our comprehensive Level 3 Personal Trainer Women's Specialist course will empower you with the qualifications and know-how to support clients through pregnancy and menopause and help you set yourself apart from other trainers. From understanding the unique physical and emotional needs of pre and postnatal clients to learning how to design safe and effective workouts for women going through menopause, our expert instructors will provide you with all the tools required to become a trusted and knowledgeable fitness professional.
And the best part? You can study at your own pace, from the comfort of your own home. Plus, with flexible payment options and expert support every step of the way, you can rest assured that you're investing in your future as a top-notch fitness professional.
So, what are you waiting for? Enrol in our course today and take your Personal Training career to the next level!
For more information or to get started, call us 01202 006 464 or chat with us online.