While some people view fashion as just clothing that is fit for a purpose, others see the wearing of garments and accessories as an opportunity to express themselves and use apparel as an extension of their personality.
From flapper dresses to 80's shoulder pads, Parisian chic to punk, we've seen it all over the years and at the heart of every craze were Fashion Designers who brought these iconic styles to life.
With fashion being an ever-evolving industry, and more people looking for unique and affordable clothing, it's the perfect time to take your love of wearable fabrics to the next level. Check out our recently launched online fashion design courses and find out which one is right for you!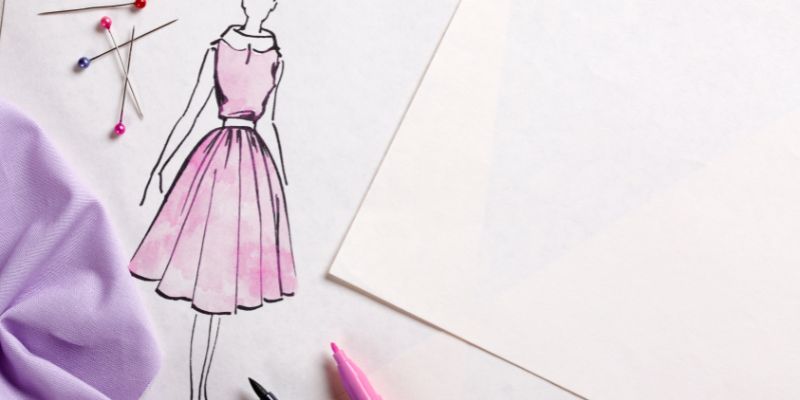 What Course Should I Do For Fashion Designing?
Which of our fashion and design online courses is best for you is entirely dependent on the outcome you're looking to achieve. You evidently have an interest in making apparel, but are you looking to explore this for fun or to turn it into a career?
Whether you strive to be an influencer amongst your friends by turning any material into must-have items of clothing, or you want to put your eye for style to use in a rewarding career in design, our courses will help you achieve your goals.
Level 2 Certificate Introduction To Fashion Design (RQF)
This course acts as an intro to fashion design, but that doesn't mean its content isn't credible or comprehensive. Designed by real-life Fashion Designers and industry experts, you'll learn about the materials, mediums and techniques professional designers use to create their concepts.
Who Does This Fashion Design Certificate Course Appeal To?
Anyone looking to learn how to get their outfit ideas out of their head and onto the runway (or in their own wardrobe!). You'll be able to take to the cutting table with confidence by learning how to use everything from sewing machines to scissors and measuring tools, so you can begin bringing your style ideas to life.
No matter if you're a:
Trendsetter looking for new inspiration
Runway worshipper wanting to know the process before the big debut
Textile wizard hoping to pick up new ideas and skills
Simply a fashion enthusiast wanting to learn for fun
You will be able to express your creative flair and indulge your passion, learning tips and tricks of the trade along the way.
What Does Fashion Designing Course Cover?
Throughout this fashion design online course, you'll study topics that will not only feed your imagination but give you the skills to create show-stopping pieces for every occasion.  
These include units on:
Developing Fashion Design Ideas
Fashion Illustration
Fashion Design Techniques
Fashion Communication Techniques
Textile Decoration
Experimenting with Fabrics
Once completed, you will have the level of skill and understanding that will enable you to consider a commercial fashion career or a profitable second income.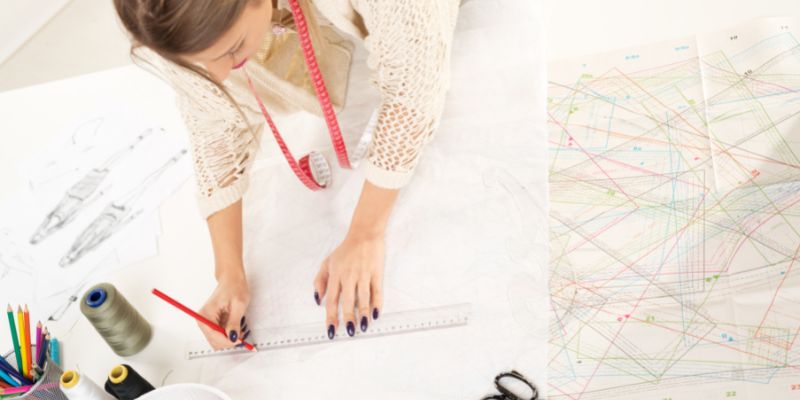 Level 3 Professional Diploma In Fashion Design (RQF)
This is a more advanced fashion design course that is made for and led by professional Fashion Designers, so you can prove you've got the skills fashion houses are looking for. You will experiment with fabrics and learn which to use for different silhouettes, movements and draping effects. Plus, you will know exactly where your fashion design career can take you with modules dedicated to your professional development.
Who Should Study The Diploma In Fashion Designing?
This course is ideal for anyone looking at how to stand out as a Fashion Designer. Through the exploration of more advanced topics, you'll go from fashion enthusiast to pro designer and stand out from the sea of amateur clothing creators in this space.
While it isn't essential for designers to study ahead of their careers, having a qualification that's recognised and highly regarded in the fashion community will go a long way in helping you achieve your career ambitions.
You'll feel empowered, confident and assured of your design abilities by getting detailed feedback from tutors who are industry experts and have years of experience. What's more, you will study a wealth of job-critical modules in an online format that facilitates fast learning, so you can get paid for your designs quickly!
What Will I Learn In This More Advanced Fashion Design Course?
With this more advanced diploma in fashion design, you will build a business mindset and become career ready by learning about everything that's involved in the fashion design process. So, you will be able to create clothing and accessories in line with brand budgets, styles, values, and constraints.
The units you will study include:
Idea Generation in Fashion Design
Fashion Illustration and Working Drawings
Textiles for Fashion Design
Fabric Experimentation
Fashion Design and Communication Techniques
Introduction to Sustainable Fashion Practices
Introduction to Patterns
Pattern Cutting and Garment Making for Fashion Design
Professional Development
After which, you will be able to stop admiring the big names on the runway and start creating your own fashion-week-worthy collections. Our TQUK qualification that's regulated by Ofqual will prove you have the skills!
Should I Do A Fashion Design Course Online?
By studying a fashion design course online, UK learners will be able to tap into the many benefits that come with distance education. Quickly becoming the preferred method of study, online courses are perfect for anyone looking to learn around their existing commitments.
Whether you're requalifying to switch careers outside of your current job, or you're simply looking to unwind through a creative course in your downtime, having no timetables to consider is a huge part of the appeal. What's more, with no exams to prepare for you can enjoy a stress-free learning experience and move through the course materials at your pace.
When it comes to comparing the quality of our online fashion design courses to their classroom counterparts, both our Level 2 and Level 3 programmes are awarded by Training Qualifications UK and regulated by Ofqual. So, you will be receiving a high standard of education and a nationally recognised qualification upon successful completion.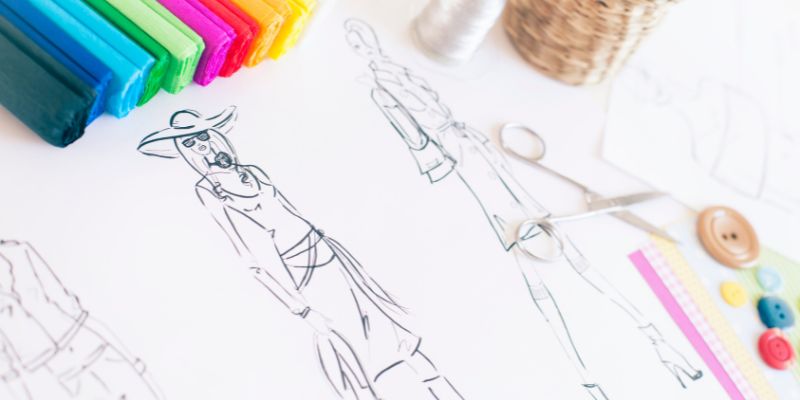 Get Started Right Away
If you're ready to add credibility to your fashion creations, our Creative Arts academy has the courses that will allow you to get qualified on your terms.  
Discover what this faculty has to offer by viewing its range of courses on our website, or speak with our Course Experts for more detailed information. You can call them now on 01202 006 464 or contact them online.